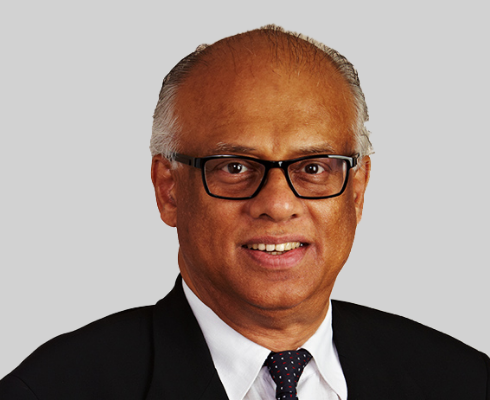 Commercial Litigation, Arbitration and Dispute Resolution | Commercial Crime and Governance
Education:
Anglo-Chinese School, Singapore (1955 -1966)
Lincoln College, Oxford University (1967 – 1970)
Inns of Court (Middle Temple), London. (1970 – 1971)
Chelva has practised at Tan Rajah & Cheah since being called to the Singapore bar in 1972 and he has led the firm as managing partner since 1997. Chelva was appointed as Senior Counsel on 10 January 1998.
Chelva is recognised as one of the most established and sought-after senior counsels in Singapore for litigation and arbitrations, particularly in substantial commercial disputes. He brings his deep and extensive knowledge of the law shaped by his professional experience of 50 years to the table. Chelva has:
Represented clients in innumerable high stakes litigation in the Singapore Courts and in arbitration

Worked on more than 100 domestic and/or international arbitrations as an arbitrator

He was also appointed as a Judicial Commissioner of the High Court of Singapore from July 1995 to June 1997

He has been a Judge of the Qatar Financial Centre Civil and Commercial Court since 7 May 2012

Served as a mediator in more than 50 mediations, all conducted in Singapore, and involving parties from USA, UK, EU, S-E Asia and Australia on matters relating to:

building construction disputes
medical negligence
commercial disputes
family disputes
Appointments / Memberships 
President of the Law Society of Singapore from 1990 to 1992


Vice-President of the Singapore Academy of Law from April 1991 to July 1993


Member of the Military Court of Appeal, Singapore from 1992 to June 1995


Judicial Commissioner, High Court of Singapore from July 1995 to June 1997


Appointed Senior Counsel on 10 January 1998


Chairman, Singapore National Committee, ASEAN Law Association from 2005 to 2006


Board Member and Panel Member, Singapore International Arbitration Centre (2010 – present)


Member of the Commonwealth Secretariat Arbitral Tribunal (2011 – 2020)


Judge of the Qatar Financial Centre Civil & Commercial Court (2012 – present)


Panel Member, Singapore International Mediation Centre (2014 – present)


Member of the International Council of Arbitration for Sport (ICAS) (2015 – present)


Honorary Bencher of the Middle Temple, Inns of Court, London (2016 – present)


Singapore's Non-Resident High Commissioner to Papua New Guinea (2008 to 2015) and Rwanda from (2016 – 2019)